2 traffickers 12 sea turtles were sentenced to a total of 18 years in prison by the People's Court of H. Ngoc Hien (Ca Mau province). This is the highest fine ever recorded for sea turtles.
On April 30, the Center for Nature Education (ENV) stated that regarding the petition to increase the sentence for two sea turtle transport subjects, the People's Court of H. Ngoc Hien (Ca Mau Province ) has just logged in. court of appeal, sentenced to a total of 18 years in prison for 2 subjects for illegal transport of 12 sea turtles, including: Le Van Toan (49 years old, residing in Go Cong Dong H., Tien Giang province)) a 10 years in prison; and Nguyen Thi Dua (51 years old, residing in Go Cong Dong H., Tien Giang province) 8 years in prison.
According to ENV, this is the highest sentence ever recorded for violations related to sea turtles.
Earlier, on April 30, 2018, the border guard post at Rach Goc (Ca Mau) discovered a truck carrying 12 sea turtles, weighing approximately 250 kg. The transporter, Le Van Toan, admitted to having "accidentally" caught 12 sea turtles while throwing fishing nets offshore. But when the functional forces were verified and discovered, all of these sea turtles were dead, no organs were left and were frozen for transport to other places of consumption.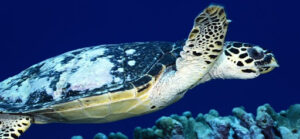 In February 2020, the H. Ngoc Hien People's Court opened a first instance trial of the case and sentenced each of the subjects to 3 years in prison. Immediately after that, ENV sent a petition to examine the whole case, the behavior of these two subjects, as well as an appeal against the first instance criminal judgment, asking to increase the jail term for the subjects.
Still according to the ENV, sea turtles are "wild animals" belonging to the class of reptiles appearing on the List of precious and rare species threatened with extinction priority for protection, promulgated by decree 60/2013 / ND -CP. This is the highest level of protection under Vietnamese law.
As for the provisions of the "2015 Criminal Law" (amended and supplemented in 2017, entered into force on January 1, 2018), the act of hunting, capturing, killing, transporting, trading, captivity, possession of sea turtles or transporting of sea turtles. Transfer, trade, possession of individuals, products and parts that are inseparable from their lives (regardless of the quantity, volume or value of the items on display) will be dealt with criminally with a maximum penalty of up to 15 years in prison for individuals.
WATCH GROUSE IN ACTION RIGHT HERE BELOW:
SHARE this article with all your animal-loving friends and family.
By Source: underwatercam/Youtube
► 

PROMOTED CONTENT :