Jam is a traditional dish of Vietnamese, not only physically but also mentally. Although jam can also have good effects, should I eat a lot of jam?
Tet jam is a traditional Vietnamese dish, bringing a cultural quintessence to its roots. A box of "quality" Tet jam should have ten different flavors, the colors should be harmonious, the packaging should be eye-catching and attractive. But have you ever wondered what the nutritional value of that box of jam is?
Initially, the jam only appeared with fruits common in Vietnam such as squash, coconut, apple, banana, ginger, kumquat, … However, depending on the evolution of technology and market demand, today we can easily find all kinds of strange jams like sweet potatoes, squash, tomatoes, ginger … with fruits like persimmons, peaches, pears, tamarinds, plums , apples, strawberries, kiwis … Dr Nguyen Thi Lam, former deputy director of nutrition, the jam contains many good ingredients for the body such as carbohydrates, proteins, organic acids, vitamins and minerals, anti- age. In particular, plant chemical groups have a cellular antioxidant effect, enhancing the benefits of the liver and detoxifying the body.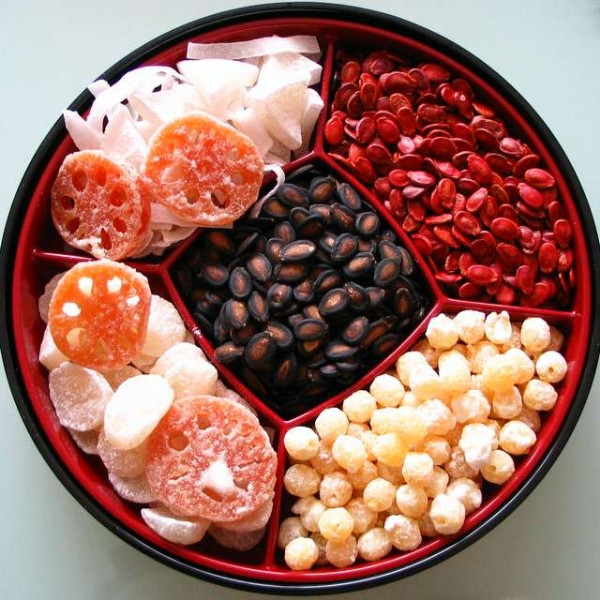 1. Reduced nutritional value
Fruits always have their own vitamins and minerals, most of which are beneficial for health. But undergoing treatment at high temperature and too long will cause these nutrients to mutate or disappear.
For example, tomatoes, carrots, apples, plums … have high levels of vitamins A and C but under the effect of heat they are completely lost. Because of this, sometimes the jam that reaches our hands is just "soulless corpses" – although still retaining flavor and color, the nutrients are gone.
2. The amount of sugar is too high
According to MSc. Dr Nguyen Van Tien – Nutritional Communication Education Center, National Institute of Nutrition, pumpkin jam, coconut jam, … are foods high in sugar, cause a rapid increase in blood sugar, eat only (1- 2 pieces / day).
The jam recipe often contains a lot of sugar, because the sugar has the effect of eliminating flavors such as acidity, acidity … so that the jam becomes more harmonious and can be kept longer.
But sugar only creates energy for the body, does not provide a lot of nutrients, so eating jam regularly will make the body lacking in nutrients. Not only that, the sugar in the jam is also one of the "bad guys" that makes women gain weight after Tet.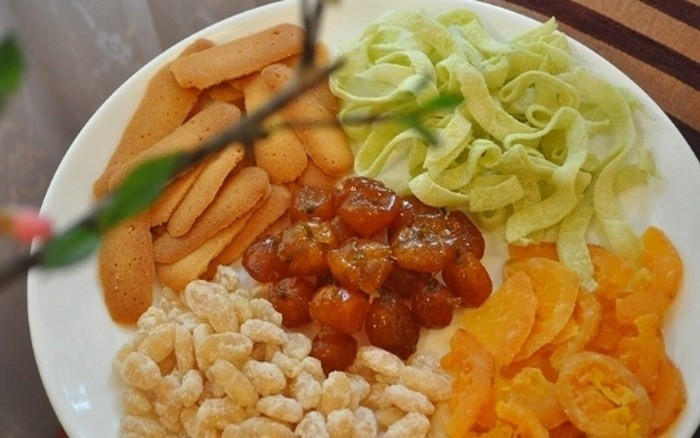 3. Causes bloating
Eating more jam is also easy to fill your stomach, make you lose the feeling of hunger, from which the main meals that we will eat less, leave the body without adequate essential nutrients.
Those who should limit their consumption of jam
Due to the jam-coated characteristics of sugar, it is very sweet and should not be used by fat people. If we eat too much, it can lead to eating less in meals. The result is a feeling of fatigue as the body receives energy only from sugar but lacks protein, fats, vitamins and minerals.
People with diabetes, hyperglycemia should limit consumption of jam to avoid getting worse. Pregnant women, the elderly, and young children should also consider eating jam. Eat just enough to enjoy the New Year, but don't "greed" but run into health problems.
Due to the high amount of sugar, the jam creates energy, does not provide enough nutrients, especially vitamins and minerals for the body compared to when it was fresh. Jam is therefore not good for the elderly, children and pregnant women during pregnancy; Should not eat a lot or replace other foods.
In short, jam is always an indispensable spiritual gift at every Tet. However, when choosing to give Tet jam cans to their family and friends, women must put the issue of hygiene and food safety first. Choose products from reputable brands with full information and clear production and expiration dates.
How to store jam on Tet
Tet jam usually contains a lot of sugar, so it should be stored in a dry place at a low temperature.
The jams used during the Tet holidays want to keep for a long time, so putting the jam in a glass jar and then pouring a layer of white sugar on top will ensure that the jam retains the original flavor and does not run out, because there is a layer of sugar in it. on desiccant.
Tet jam usually contains a lot of sugar, so it should be stored in a dry place at a low temperature. Avoid direct sunlight, hot places make the jam watery, soft and fragrant.
Absolutely do not store jam in the freezer compartment of the refrigerator, because when we take it out, use it but damage it easily, it will melt when put into the environment, causing bacteria to invade when they are consumed. poison.
For leftover jams that have been served, they should be covered after serving. Absolutely avoid spilling leftover jam with unused jam bags to avoid damage.
Note "Tet 3 no jam"
Every year as the Lunar New Year approaches, the issue of confectionery and candy is hotly debated. It is a very diverse product, so it is difficult for the authorities to control the type, origin, origin and quality.
Unhealthy product health hazards due to imports from China or unsanitary food safety in homemade manufacturing facilities during processing or potential consumption Additives which cannot be used in impregnation, marinade or eye-catching colors … have worried consumers.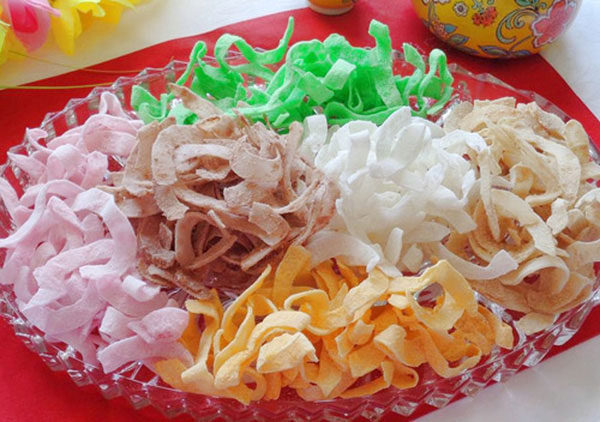 Although authorities and market experts cooperated to closely inspect Tet jam products. But in fact, "three pas de jam" (no original label, no date of manufacture, no expiration date), has always crept into the market, and sold everywhere.
These types of levels pose a risk to food safety, due to small manufacturers, places where raw materials are dried, soaked in buckets filled with jam, and additives that are not allowed to be used such as: Products bleaching chemicals, coloring products, chemical sugars, borax … all present risks of toxicity to health.
Some production facilities are not hygienic, can cause infections, giving rise to some diseases of the digestive tract such as diarrhea due to infection. Unsatisfactory storage is easy to mold, causing more damage to health than good.
Therefore, if it is not too busy, each family can make their own traditional jam for the Tet holidays, ensuring food security while keeping the taste of the new year and women have the opportunity to add the opportunity for women to cook "with skillful hands, often do". Or mothers should choose Vietnamese jams made by big companies, with brands, full labels, and the date of manufacture and the expiration date.