With a power of up to 5 trillion calculations per second, this super workstation will help VinAI's AI studies to be completed faster, on a larger scale, and with more precision.
On May 22, 2020, the VinAI Research Institute for Artificial Intelligence (under Vingroup) announced that it had invested in the first AI supercomputer – NVIDIA® DGX A100 ™, the first generation in Vietnam. With compute performance of 5 trillion calculations per second, every NVIDIA DGX A100 ™ workstation is the equivalent of a data center, delivering unmatched power for in-depth AI research.
The NVIDIA® DGX A100 ™ Workstation System is NVIDIA's latest product launched a few days ago alongside a new A100 GPU with an Ampere architecture based on a 7nm process. The power of these workstations will dramatically accelerate artificial intelligence research and the formation of machine learning models.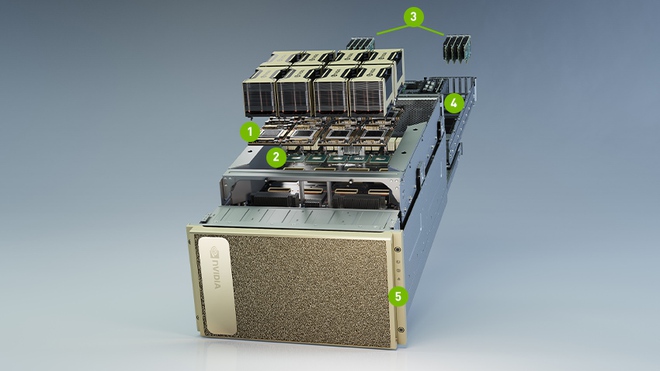 NVIDIA DGX A100 series of workstations.
With the NVIDIA® DGX A100 ™, the VinAI Institute can experiment with large out-of-the-box AI models for linguistic data, images and video for in-depth research. With superior performance, the supercomputers will allow VinAI to test larger models with greater precision.
In addition, the NVIDIA® DGX A100 ™ also enables VinAI researchers and engineers to reduce the time it takes to complete an experiment longer than a week to less than 24 hours, thus increasing test performance. several times compared to before. All phases, including data analysis, training, and inference, will be maximized in terms of speed, volume, and quality of work.
Dr Bui Hai Hung (Director of the VinAI Research Institute for Artificial Intelligence) said, "The new generation of NVIDIA DGX A100 AI supercomputer is a device that every unit operating in the AI field wants to own. Adding NVIDIA® DGX A100 ™ to the compute infrastructure will help VinAI be ready to step up research and speed up project implementation. We now have a number of important models and experiences. to proceed directly on this supercomputer ".
"We are committed to working closely with VinAI architecturally and working with VinAI from a product developer perspective," said Dennis Ang, Corporate Customer Manager for NVIDIA South East Asia. promote remarkable achievements for AI projects ".
VinAI Research is currently focusing on fundamental machine learning research, deep learning, and new AI methods and applications in the field of computer vision and natural language processing. VinAI also aims to provide intelligent solutions using AI to solve practical problems; At the same time, it will also guide the training of AI talents in the region.
Therefore, the addition of the NVIDIA® DGX A100 ™ AI supercomputer and a large investment in the technology infrastructure not only accelerates the process considerably, but also shows the ambition to create a technological base for other applications in the future. .