Tuberose root, also known as umbrella head, hawthorn, bear bulb, is the root of the head tree, often grows in the wild or is planted in border areas of the north such as Cao Bang, Ha Giang, Lao Cai. … The main toxic components of larvae are aconitine, a tongue anesthetic, and other alkalloids.
In oriental medicine, the aconitine poison in the tubers of the larvae is listed as a group A poison, but it is also a valuable medicine after being carefully prepared. Alcohol soaked in jaundice is often used as a massage medicine to treat leg pain, numbness, joint misalignment, and bruising.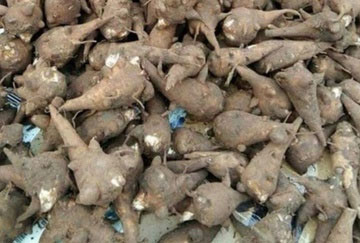 Tubers contain the life-threatening aconitin toxin.
Tuber-soaked wine is also processed by many users, such as steeping, drying and slicing with yellow stars. In folklore, tubers can also be boiled as a tonic. This method of treatment is fully in accordance with popular experience and cannot determine whether the toxicity is completely or not.
When you eat porridge or drink alcohol soaked in toxic jaundice, symptoms of poisoning usually appear immediately. Patients have a feeling of numbness around the mouth, lips, tongue, vomiting, nervous system disturbances, convulsions, more severe heart rhythm disturbances. These symptoms can cause a drop in blood pressure, a drop in blood pressure and lead to rapid death.
Specialist doctor I Do Tien Anh, Emergency Department, General Hospital of Cao Bang Province, warned that the tubers are very toxic, people absolutely do not use them on purpose. In addition, people are not allowed to prepare the larvae for food on their own without knowing how to get rid of toxins, especially to avoid drinking alcohol soaked in these tubers.
Alcohol soaked in tubers used for massage should be clearly labeled, stored with care, out of the reach of children. When there are symptoms of poisoning, the patient should be promptly taken to hospital for prompt treatment.