According to the Daily Mail, the white-tailed eagle is known as the "flying swordsman" thanks to its wingspan of 2.45m. The white-tailed eagle's natural prey includes seabirds, fish, hares, and geese, which are also known scavengers.
This bird has recently reappeared in some parts of the world, as it was thought to have become extinct in the early 20th century due to hunting and changing its habitat.
The last known bird at this time was in the Shetlands in 1918. And this was the first time it had been seen in Loch Lomond.
According to the sightings, the pair of birds are looking for suitable nesting sites, indicating that they intend to settle in the long term.
Paul Roberts, NatureScot Director of Operations, said: "This is the final chapter in the history of sea eagle conservation. It is heartwarming to see sea eagles returning to Loch Lomond after all these years. "
NatureScot, Trossachs National Parks Authority and RSPB Scotland are working together to monitor bird behavior and are putting in place visitor management and protection measures to ensure birds are not harmed.
There have been no reports of livestock predation involving white-tailed eagles in Loch Lomond, NatureScot says. But in some places, they can influence agriculture and animal husbandry by attacking lambs.
Animal world: Lizard riding a turtle for a walk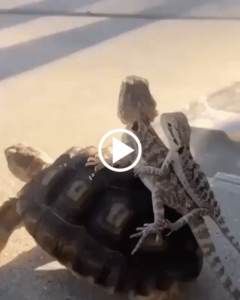 This most mysterious fish in the ocean can store sperm for 3 years to gradually spawn