Police rescued 41 emaciated animals from the "horrible and unsanitary" farm.
On August 18, the Daily Mail reported that Spanish police recently uncovered the shocking truth inside a dog farm near Quintanar de la Orden in the province of Toledo in the central region of that country.
As a result, a local animal charity informed local police about the secret hidden inside a dog farm. Immediately, the group of police were present at this location and discovered an unprecedented horror scene. 41 dogs were kept together in a filthy and dirty cage.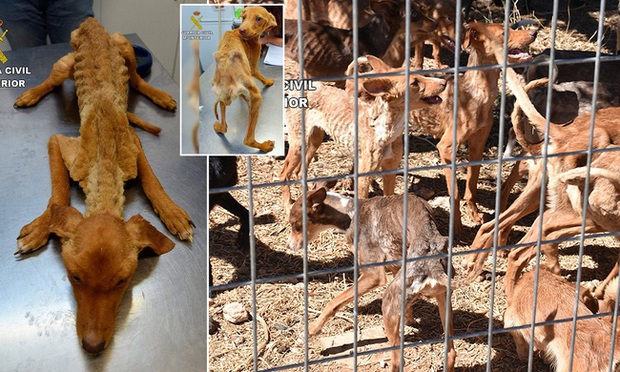 Dogs are thin, only skin and bones.
The most remarkable thing is that the animals are lean and bony as if they had not eaten and drunk for a long time. They are almost exhausted from hunger and dehydration.
Animals are not equipped with a microchip (a device used to locate and store information about pets) and are also undocumented under their regulatory health requirements. The couple who own the farm were arrested for animal abuse.
Police said 29 of the dogs were so weak that they couldn't feed on their own and had to be fed intravenously, but luckily all are recovering now.
The dogs are currently being cared for by local charity employees until they make a full recovery.
The photo provided by the Spanish police shows the pain the poor animals endured. A breeding couple has been arrested for animal abuse.
"Thanks to the timely information, we were able to save the lives of 41 dogs suffering from severe malnutrition, body depletion and bodily weakness," said a spokesperson for the Spanish police. and dehydration. It is not known why she has so many dogs and leaves them in such terrible conditions.
 Daily Mail