The Eiffel Tower is a metallic structure located in the Champ-de-Mars park, next to the Seine, in the city of Paris. Originally named the 300-meter Tower, the work built by Gustave Eiffel and his colleagues at the Universal Exhibition of 1889, is also the 100th anniversary of the French Revolution.
Initially, Gustave Eiffel was to be built in 12 months. But the real time has doubled. Construction began on January 28, 1887 and ended in March 1889, just before the official opening of the World's Fair.
The building's original height is 300 meters, depending on the design, but the antenna at the top allows the Eiffel Tower to reach 325 meters. Since its inauguration in 1889, the Eiffel Tower has been the tallest building in the world and has maintained this position for more than 40 years.
At the time of construction, the Eiffel Tower was reddish-brown in color, but after that it was repainted 18 times. After all, the decisive paint color for the Eiffel Tower was copper-gold as it is today and it took a year and 60 tonnes of paint to complete.
From the start, in addition to the tourist function, the Eiffel Tower was also used for scientific purposes. Today, the tower continues to be a radio and television station for the Parisian metropolis.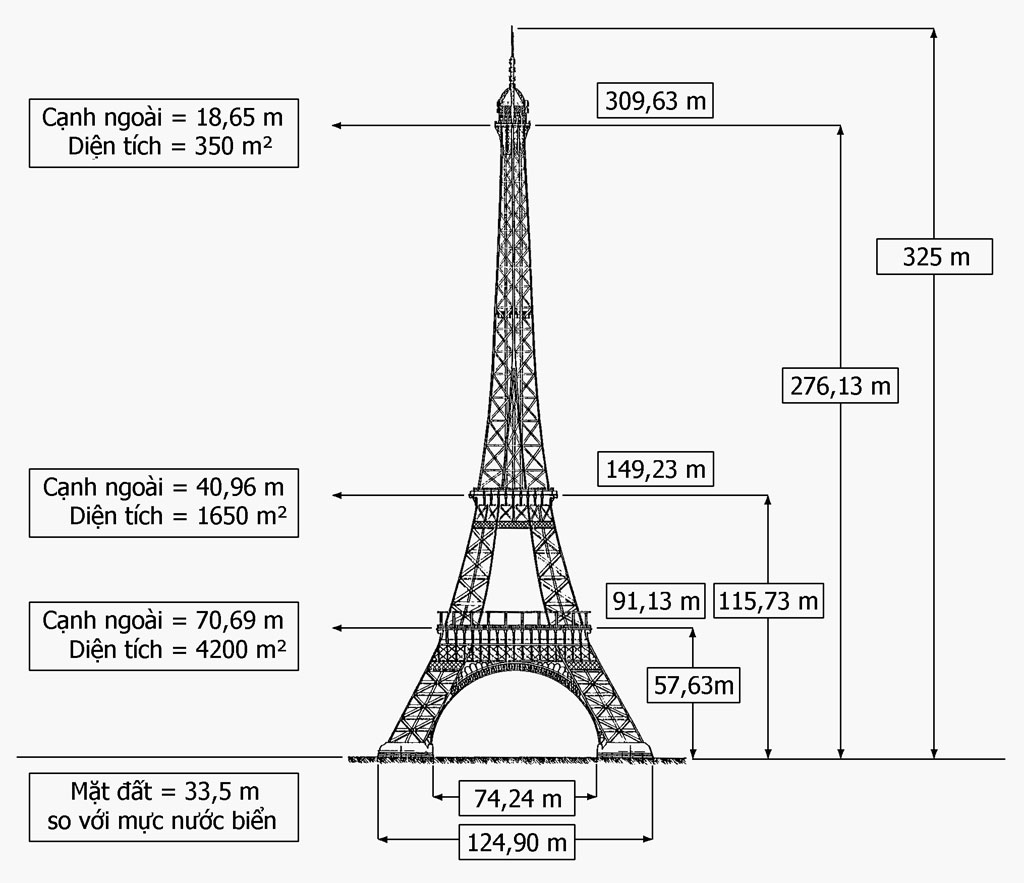 Become the symbol of "the capital of light", the Eiffel Tower is one of the most famous structures in the world. From its inauguration until 2007, the tower has welcomed more than 236 million visitors. In 2007 alone, the Eiffel Tower welcomed nearly 7 million visitors, occupying the place of the most attractive toll structures in the world.
With three floors, the space of the Eiffel Tower is divided between many different services. In addition to the two restaurants Altitude 95 and Le Jules-Verne located on the second and third floors, the tower also houses fast food restaurants, galleries, souvenir shops, Internet access points, shops selling French commemorative stamps. … In total, the Eiffel Tower needs around 500 employees, including 250 SETE employees and 250 employees for the rest of the services. Welcoming tourists from all countries, the Eiffel Tower is open every day of the year, from 9 a.m. to midnight from June 13 to August 31, and from 9:30 a.m. to 11 p.m. the rest of the time. year.