In particular, these giant sails can be retracted over a quarter of their length to ensure safety during storms.
The idea of ​​using a sail to propel a boat was discovered at sites dating from 5,000 to 5,500 BC. Sails transported humanity across the globe for thousands of years, before being scrapped and left primarily for recreational use in recent hundreds of years through the development of steam technology and steam engines. internal combustion. . Fuel ships have been incredibly successful, opening up the global trade networks we enjoy today, but not to end the era of sails.
In response to the increasingly obvious consequences of climate change, a number of companies are seeking to bring zero emission sailboats back into the world as a freight carrier. This is done by taking advantage of advanced materials, precise computer control, and exciting new designs to take performance and speed to the next level.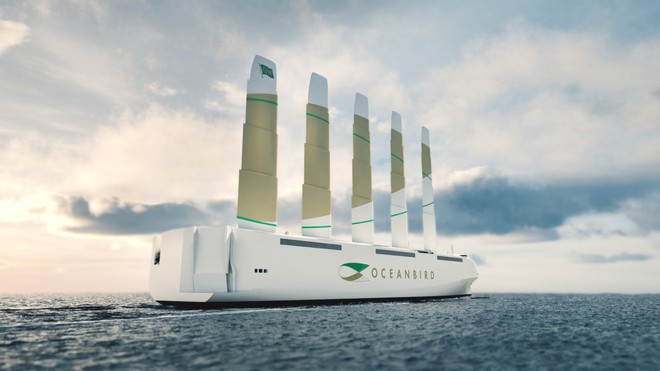 Oceanbird will use five giant 80-meter (retractable) sails to reduce cargo emissions by 90%.
The latest sailboat concept is the Oceanbird, a giant freighter capable of carrying up to 7,000 cars at an average speed of 10 knots. It's not as fast as a conventional ship, but the four gigantic 80-meter Oceanbird sails promise to reduce emissions by up to 90%.
The sails, made of metal and synthetic materials, can retract approximately 20 meters if necessary, keep them safe during severe storms or allow the ship to enter under decks. Of course, in addition to using the power of the sails, it will also have motors equipped to move close to land and docks, or to help the ship out of trouble in one. emergency number.
Oceanbird is a tripartite project between the famous shipbuilder Wallenius Marine, the initiator of the project, the Swedish research institute SSPA and the Royal Institute of Technology in Stockholm.
When launching in 2024, the Oceanbird is expected to be the largest sailing ship in the world, with a capacity of up to 7,000 cars.
The team has built a 7-meter mock-up of the ship, conducted open water testing and will continue to test at sea over the coming months. According to them, a design to be ready for production will be completed to fulfill orders by the end of 2021. And Wallenius plans to deliver the first ship to customers by the end of 2024.
The project team says it will be the tallest sailing ship in the world when launched, around 200 meters long and 40 meters wide. And of course, this technology will be applied to a wide variety of large ships, including things like cruise ships. Of course, it does not have the potential to replace container ships, where the entire deck area must be completely flat for the containers to be stacked.
The shipping industry contributes around 2.5% to global CO2 emissions and is responsible for 18-30% of nitrogen oxides released into the atmosphere, as well as 9% of sulfur oxides from fuels dirty and cheap. So this is clearly an area for improvement, as industry around the world faces increasingly stringent regulations on pollutant emissions.
Giant sailboats specialized for shipping goods at sea
newatlas